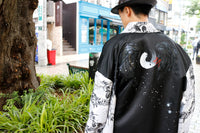 Motif
Existence, Sequence, Energy, Growth and Circulation of natural process is my foundation, and the designs express a sense of being-held-together and co-existing with the cycle, although we are invisible to the phenomenon.
At times, like drops of water.
At times, like a sphere.
At times, like a flowing element.
At times, like a wave or light.
It cannot be contained in the realm of logic or words, but its existence is significant and essential.
These essential elements guide me to create
大和創造 x Yamato Design
I define the spoken sound of the Japanese word "Yamato" as "synergy of craftsmanship and ideas of many persons, and as for the sound of "Souzou" (creation), I subscribe the meaning "to be born and delivered to many persons."
Moreover, the definition of Souzou (creation) and Design when combined is "the form resulting from having new shape synergize with the sensibilities of many persons"
Clothing is a medium to express this phenomenon, I selected those that will blanket both the body, heart and sensibilities.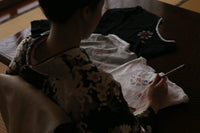 Style
I aspire for my clothes to interweave in a session like manner with clothes worldwide.
Since ancient Japan, aestheticism of unconsciousness, which I empathize with, has been recognized, and therefore it is the essence of my style.
Sharp suits, sexy dress, formal-wear for special occasions, etc.
These are Jacket/Coat with Japanese sensibilities, which can be hybridized in any scene.
Jacket/coat that will calm the heart, as in the expression "overcoat that will blanket the body like a feather".
Deep sleeves of Kimono will:
Arrange movements in a beautiful manner Enhance dignity Creates a moment of separation or interval in the flow of movement Provide a feeling of elegance
It is a form closely linked to "movements" and "feelings".
Since the ancient times, Japan has embraced "aestheticism of momentary separation", or simply an interval. It is said that due to the pause in movements or thought, it allowed a person to reflect on one's self not from the perspective of self-interest but "looking at one's self from the perspective of the natural process."
Production
In order to form a shape, many people care for it and interweave warm feelings.
Passion, kindness, thoughtfulness, generosity, and many gracious hearts and approach is contained.
I am certain that anyone taking hold of the product will synchronize with it and convinced that the maker and wearer exist to "share the same wave motion".
The textile used for the products is woven fabric that are rooted in various regions in Japan
Whether the material is suited for Japanese clothing or it has a western taste, the products contain Japanese craftsmanship developed through time until today.
Skilled craftsmen from Kiryu provide the embroidery. Not only does the work reflect craftsmanship from the past but new skills have been diligently developed through trial and error. There is a lot to learn from the approach that threads relationship between stings and persons. As for the painting, many of them are expressions mentioned in the "Motif" section, as well as ancient Japanese letters and symbols of natural phenomenon. I take these expressions and entwine it with the fabric infusing it with a sense of "praying", "sustaining" and "courage".
*Although it is single jacket/coat, but this piece will bring together the "larger existence" and "mutual wave".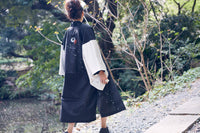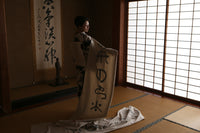 To you
I do not posses a magic wand, but heartful wishes from many people are layered in every work piece and I get a sense of "overflowing joy and happiness" from that wonderfulness.
I feel that this sense of joy is to be shared with everyone that wears our work.
We hope that our work will be an item that protects your "own sensibility" that you are sure to encounter in the future.
I hold dear to this sentiment.
Everyone that is involved in the making feels the same.
We wish you many happiness. Thanks!